GRAPHITE COLUMN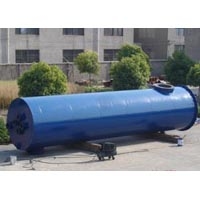 Graphite columns and column internals offer reliable and corrosion-resistant solutions to most processes of chemical, environmental protection, mining and metallurgy, fine chemicals and pharmaceuticals, photovoltaic, pulp & paper, polysilicon, conventional thermal power, where the applications for graphite columns can be various:
- Adiabatic absorption
- Desorption of hydrogen chlorides(HCL)
- Separation of acid mixtures by distillation
- Purification of highly aggressive flue gases
- Incineration flue gas scrubber
Customer Benefits:
- High resistance to corrosion
- Very good temperature resistance
- Excellent refractory qualities and mechanical properties
- Insensitive to thermal shock
- Non-contaminating properties
- High level of operational, reliability and safety
- Economically viable solutions to problems
All graphite columns can be supplied with packing or trays including graphite bubble cap trays, sieve trays and tunnel cap.
Graphite columns consist of hollow cylinders which are either cemented together or clamped with a system of tie rods. Changes in length due to thermal expansion or contraction are compensated for by springs on the tie rods.
Good thermal conductivity, a low coefficient of thermal expansion and low modulus of elasticity together give graphite column its excellent resistance to thermal shock. Fast startup and shutdown is no problem.